Club Championship
2018 Club Champion  Susie Noel   Congrats!
First Place Flight 2:  Marie Johannes  Congratulations!
Two Days of Club Championship Play. August 22 (Ranch/Ridge) & August 23 (Meadow/Ranch) 
Low Gross Flight 1
  1st  *Susie Noel  167
  2nd  Deb Kohlwey  180
  3rd  *Cindy Moynahan  186
Low Net Flight 1
  1st  *Mary Byerrum  133
  2nd  Jeanne Anne MacDonald  140
  3rd   Maggy Helm  143
Low Gross Flight 2
  1st   *Marie Johannes  198
  2nd  *Julie Richards  199
  3rd  Sue Seemann  204
Low Net Flight 2
  1st/ 2nd Tie Mary Brooks and Linda Wenzek-Barth 141
  3rd  Norma Colosimo  146
The event concluded with an "End of the Season" Luncheon hosted by Sue Seeman.
+++++++++++++++++++++++++++++++++++++++++++++++++++++++++++++++++++++++
2017 Club Champion Susie Noel.  Congratulations!
First Place Flight B:  Jeanne Anne MacDonald.  Congratulations!
2017 Championship Winners. Two days of play on Ranch/Ridge, Meadow/Ranch
Flight A
Gross
Champion: Susie Noel 168 $60
2nd Place: Helen Brown 179 $25
3rd Place: Cindy Moynahan 181 $20
Net
1st Place: Mary Regehr 132 $30
2nd Place: Mary Byerrum 139 $25
3rd Place (tie): Linda Moore and Maggy Helm 141 $10 each
Flight B
Gross
1st Place: Jeanne Anne MacDonald 190 $40
2nd Place: Beth Daniel 192 $25
3rd Place (tie): Madelyne Stevens and Pam Brown 201 $10 each
Net
1st Place: Andrea Singleton 138 $30
2nd Place: Sue Seeman 154 $25
3rd Place: Julie Richards 157 $20
Details about the championship can be found here: ClubChampionshipLetter2017 (4)
Event is being held Wednesday, August 23 and Thursday, August 24 with luncheon to follow at Dar Klancke's home.  Sign up BY AUGUST 17TH in locker room to participate!
Our 2016 Club Champion is Susie Noel – CONGRATULATIONS!!!!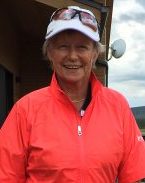 Our Club Champion is determined after two days of net stroke play. Day One, foursomes are determined by current handicap and like scoring paired together. Day Two, the foursomes are re-ordered, based on Day One outcomes. All groups, both days are shot-gun start.
The Club Champion is the winner of the lowest score (handicap included).  There is a second flight Club Champion as well, based on handicaps. Members do need to have played 3 times in weekly play to participate in Club Championship.
Club Championship is followed by a nice luncheon with all sorts of prizes!
2016 Club Championship Winners
Flight 1 Gross
Flight 1 Gross Champ Susie Noel
Flight 1 Gross 2nd Deb Kohlwey
Flight 1 Gross 3rd Michelle DeFrange
Flight 1 Net
Flight 1 Net 1st  Helen Brown
Flight 1 Net 2nd Marie Johannes
Flight 1 Net 3rd Mary Byerrum
Flight 2 Gross
Flight 2 Gross 1st Beth Daniels
Flight 2 Gross 2nd Cathy Malone
Flight 2 Gross 3rd Kate LaBelle
Flight 2 Net
Flight 2 Net 1st Andrea Singleton
Flight 2 Net 2nd Dar Klancke
Flight 2 Net 3rd Pat Venske